Save Time, Eliminate Data Entry Errors, and Create Orders Quickly Without any Hassle.
Report writing is the essence of appraisal and one of the most crucial and time-consuming requirements of the whole appraisal management process. It requires a lot of manual data entries, corrections, and sometimes revisions, effecting the TAT on orders hence reflecting the performance of the appraiser.
To overcome all these hassles and make report writing easier for appraisers, ValueLink has Integrated with TOTAL by a la mode. The integration gives appraisers an easy way to import order details into TOTAL, eliminating the need to manually enter data when working on the order. Furthermore, information from TOTAL can also be exported to ValueLink Connect to simplify the process of order creation in Connect.
The integration will be available to all subscribers of ValueLink Connect. To learn more about the TOTAL integration, contact us at 888-
587-0805 x.1 or email sales@valuelinksoftware.com.
How It Works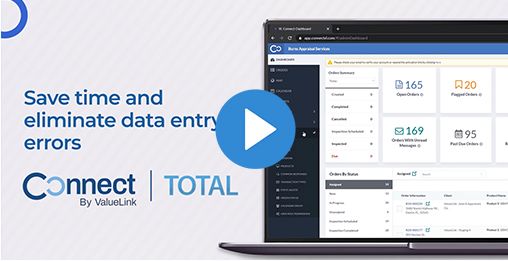 Step 1: Setup TOTAL customer in ValueLink Connect
Step 2: Export Report Information from TOTAL to ValueLink Connect
Step 3: Export ValueLink Connect order to TOTAL
Step 4: Start Creating and Managing Orders in ValueLink Connect
Check out our Tutorial on Exporting Orders and Report Information by clicking the video links below.
How to Export Valuelink Connect Order To TOTAL
How to Export Report Information From TOTAL To Valuelink Connect