This list honors the housing economy's 100 most innovative technology companies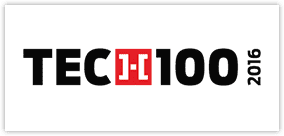 ValueLink Software has been named on HousingWire's exclusive list of the housing economy's 100 most innovative technology companies for a second year in a row.
The HW TECH100™ is the only list of tech innovations that captures the entire U.S. housing economy, spanning real estate to mortgage lending, servicing, and investments. ValueLink was named on the prestigious list in 2015 for providing an innovative solution and disrupting the appraisal management technology industry.
This year, the company was selected for introducing cutting-edge CrossCheck appraisal review technology. CrossCheck analyses and checks appraisal reports within seconds for almost 1,000 rules and alerts appraisers and reviewers on any potential UAD and non-UAD errors on the reports, resulting in precious time and cost savings.
"Being named on the HousingWire TECH100 list for a second year in succession is a testament to our commitment to innovation and our focus on helping customers succeed in an extremely competitive environment," said Farrukh Omar, COO of ValueLink Software.
"Our core focus remains on being disruptors in our field, offering the most innovative and feature-rich solution while providing cost-savings and efficiency gains to our customers. Finally, I would like to thank our entire team, who have worked tirelessly throughout the year to make this possible."
"The companies in the HW TECH100™ are providing innovative solutions to the traditionally hide-bound mortgage finance industry," said HousingWire Editor-in-Chief Jacob Gaffney. "In the face of rising costs to originate and service loans, a still-volatile housing market, and multiplying regulations, these innovations are crucial to the survival and profitability of those in our industry."
About ValueLink Software
ValueLink Software is a provider of technology solutions to the real estate industry. The company offers a comprehensive web-based platform designed to help lenders, appraisal management companies, and financial institutions manage the appraisal process for residential and commercial properties. With constant innovation and technology integrations, ValueLink has become the premier appraisal management system on the market that is scalable and ensures compliance with the latest regulations.
ValueLink Software was founded in 2009 and is based in Houston, Texas. For more information, visit https://www.ValueLinkSoftware.com or email info@ValueLinkSoftware.com.
About HousingWire
HousingWire is the nation's most influential industry news source covering the U.S. housing economy, spanning residential mortgage lending, servicing, investments, and real estate operations. The company's news, commentary, magazine content, industry directories, and events give more than one million industry professionals each year the insight they need to make better, more informed business decisions. Winner of numerous awards, including a 2012 Eddie Award for national editorial excellence in the B2B Banking/Business/Finance category, HousingWire has been recognized for excellence in journalism by the Society of Business Editors and Writers, the American Society of Business Press Editors, the National Association of Real Estate Editors, and Trade Association Business Publications International.
Learn more at https://www.housingwire.com.