Automated Appraisal Review Tool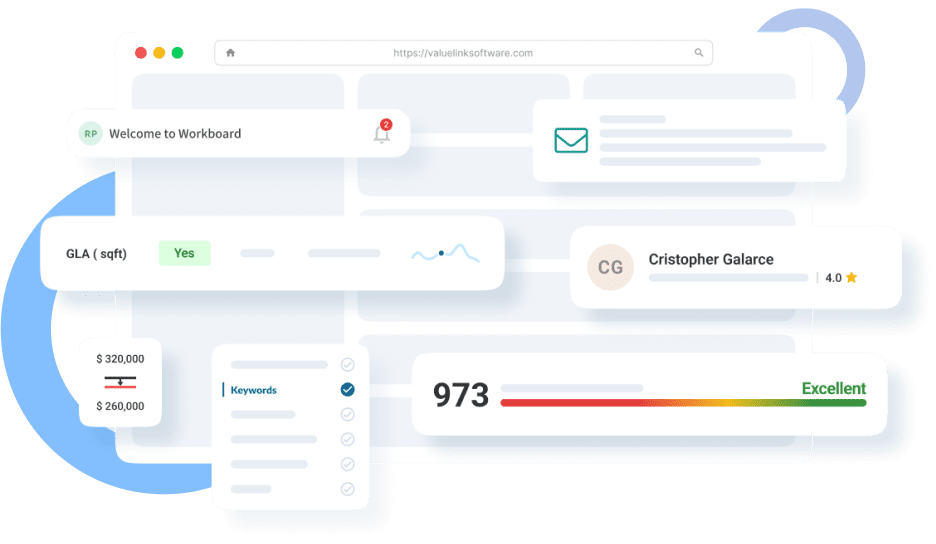 Simplified Appraisal Review and Underwriting
CrossCheck is an automated appraisal review tool that enables Lenders, AMC, and appraisal reviewers to validate the accuracy of an appraisal report within seconds without having to go through each detail manually.
CrossCheck validates and gives the appraisal report relevant scores based on compliance, consistency, value complexity, and completeness.
CrossCheck runs the appraisal report through an automated review and assigns a score to the appraisal report, and rates it as low, medium, or high. The assigned score and rating are based on the 1000+ built-in rules when reviewing a report.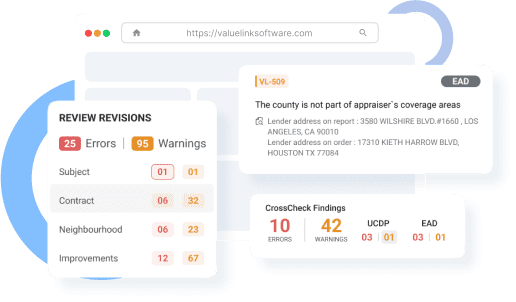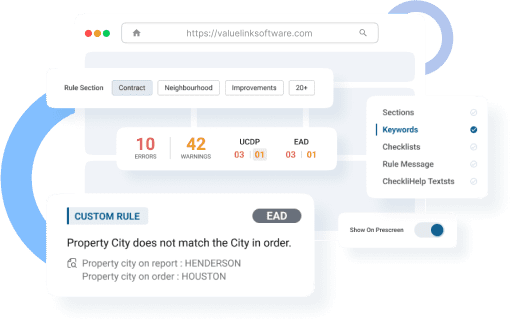 CrossCheck can be customized to meet the specific requirements of your clients. Separate checklists can be created for different clients and can be easily set up in appraisal desk management software. Rules in the checklist can be categorized as Errors or Warnings which enables reviewers to quickly see the most important issues for a particular client.
The overview screen highlights and gives the reviewer a count of the UCDP & EAD errors and warnings and LCS/CU score. The errors and warnings are highlighted on standard rules that must be met when submitting an appraisal report.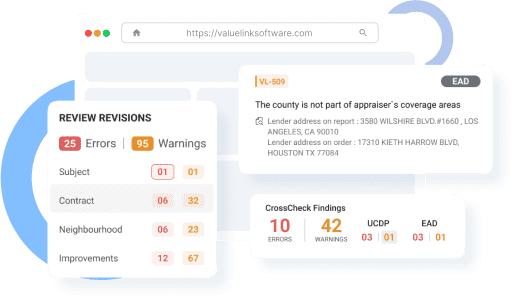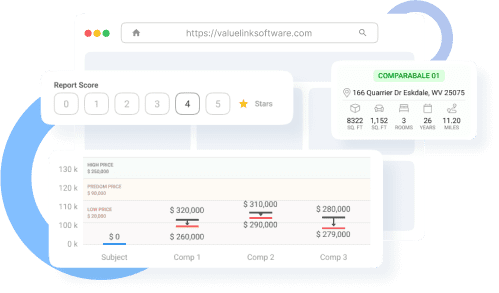 The user interactive graph compares the subject property with comps and highlights actual and adjusted cost differences. The graph also gives an insight to the reviewer on whether the comps selected for the appraisal were suitable. The section highlights whether the property lies in the high, pre-dominant, or low category.
A new satellite map view displays the subject property and its comps so the reviewer can easily see the properties the subject property has been compared with. Using the maps, the reviewer gets a bird's eye view of the distance between the comps and the subject property based on the range of radius, miles, and location.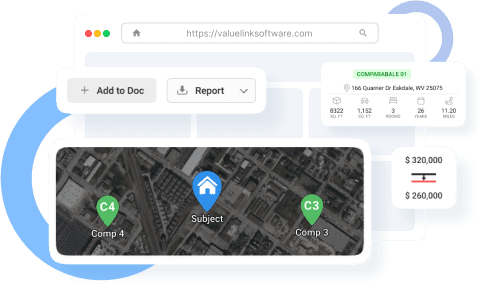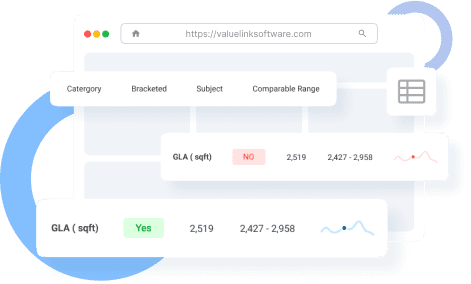 CrossCheck allows you to bracket a subject property with its comps. The subject property is bracketed on various features, i.e., age, no. of bedrooms, condition, gross living area, quality, and site size. If the subject property attributes fall within the range of the comparable, it will be marked as bracketed; otherwise, the system will mark it as "not bracketed."
Trusted by High Growth Companies
Leader In Technology-Driven Solutions For The Evolving Mortgage Industry
Automate Your Valuation Management Process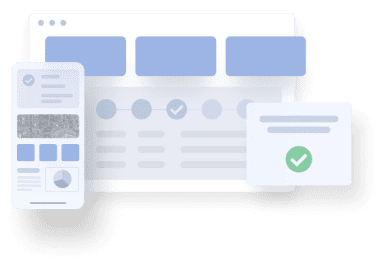 Trusted by Leading Lenders and AMCs

We were able to tailor ValueLink to the exact needs of our clients and our staff. It is a cost-effective, fast and efficient platform that stands out among its peers. The support staff is also always friendly and receptive with our customization requests

ValueLink has been great to work with. They have a great and simple platform which makes it very easy to work with and yet be compliant. On top of it they have great customer service.