Mortgage rates have been in the spotlight lately and for a good reason. The average rate on a 30-year fixed mortgage has more than doubled in the last two quarters. These skyrocketing rates are because of August's hotter-than-expected inflation report, leading the mortgage rate to 7.08% as per Freddie Mac – the highest rate since 2008.
The Fed keeps hiking interest rates in trying to tame historical inflation. It has raised interest rates by three-quarters of a point at its September meeting for the third time this year, officially bringing the benchmark interest rate that influences almost all borrowing costs throughout the economy up to a target range of 3-3.25 percent. Mortgage rates also spiked to levels not seen since 2008, leaving some aspiring home buyers on the sidelines.
After all this happening around the industry, the question here is, are we headed toward a recession?
The rising mortgage rates are a correction to the pre-pandemic levels, the average mortgage rate before the pandemic was already at an all-time high of 5%. The difference in today's rate is accounted for to fight the rising inflation rate.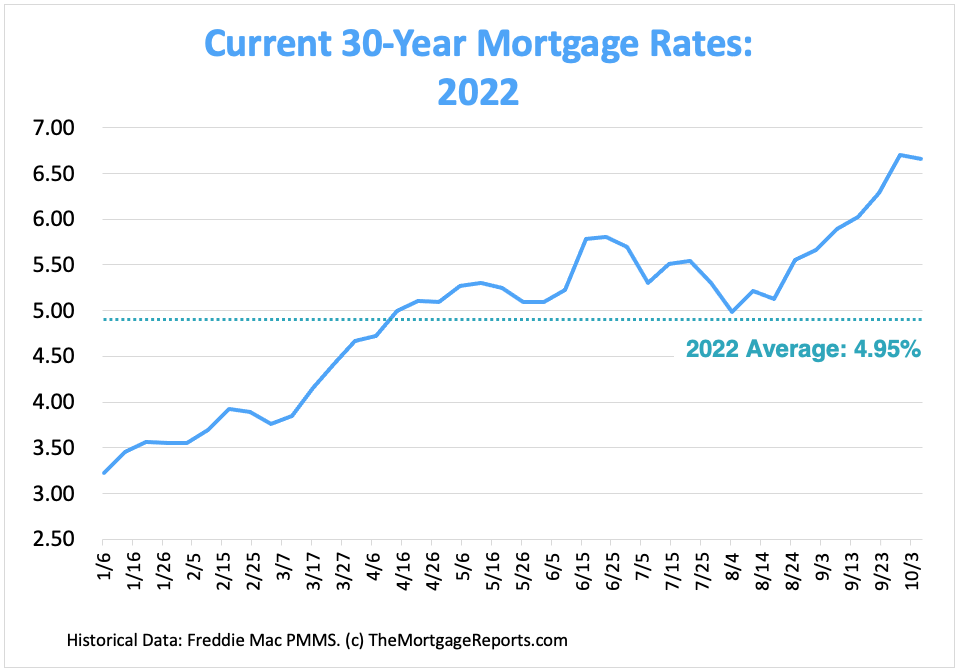 The chart represents weekly averages for a 30-year fixed-rate mortgage. Average for 2022 as of October 6, 2022. Source: Freddie Mac
If we look at the bigger picture, closing a deal right now is still favorable since the housing market is in the phase of correction there is less competition. Fewer sales have led to fewer bidding wars for those who can afford to buy, as there are more listings every day and offers are being accepted much more easily.
It would be wise for buyers to lock deals as soon as they get approval on the mortgage before the rates go any higher. Moreover, another perspective to consider when taking a buying decision is to do some research on whether the rent payments would cost more than the mortgage payments. As mortgage payments would contribute to building equity and rent payments will only be an incurred expense on the list.
Conclusion: There has been a significant increase in mortgage rates in the last two quarters as the Fed is trying to fight rising inflation. For the housing industry, it's always a good time to buy a house depending on the financial stability of the borrower.