Appraisal management companies deal with some of the most overly complex tasks. Outdated processes & technologies add unnecessary hurdles that result in manual entries and high turnaround times. 
ValueLink Core enables AMCs to streamline their appraisal processes by automatically assigning orders, managing vendor panels, and delivering reports directly into the system. Core gives AMCs the advantage of placing orders from an all-inclusive platform for modern valuation products like Appraisals, AVMs, BPOs, Desktop, and Hybrids. It is a feature-rich solution that allows AMCs to manage all types of orders in one place seamlessly.
Clear communication and efficient processes are necessary with multiple internal, external, and client stakeholders involved in the appraisal process. Appraisal management workflow automation involves intelligent automation logic that nullifies the need for handholding while processing orders by harnessing inbuilt cognitive abilities that deliver accurate reports.
Responding to Industry Needs
Appraisal modernization is an imperative change in the industry, having bifurcated workflows and automation are the key components of success in today's environment. Initially, Freddie Mac's rollout of ACE+ PDR (Automated Collateral Evaluation+ Property Data Report) helped the industry use data and accelerate the valuation process. Recently Fannie Mae's Value Acceptance + Property Data is another valuable addition as lenders expect to see a reduction in turnaround times and borrower costs. The long-awaited changes are being heralded as a game-changer for the industry. As an industry tech leader, ValueLink has always been at the forefront to provide the latest technology to its users. ValueLink Core, our valuation solution for AMCs, strives to enhance the valuation management capabilities for its users by introducing the "Automated Workflow" functionality. The new feature helps AMCs to reduce manual efforts and time spent on every secondary order by enabling an intuitive module that allows them to set rules and automatically create orders for requests like ACE+ PDR and Value Acceptance + Data Property, once the pre-set conditions are matched. 
How ValueLink Core Automates Your Workflow 
The Automated Workflow feature would help Appraisal Management Companies navigate time-consuming tasks, mitigate error risk, and expedite the entire valuation process by automating secondary orders. Here is how it would work, in a few simple steps:  
The primary order is the default

(1004P)

order that carries out the traditional appraisal process.

 

 

 

The secondary order

(1004H

or

1004 Desktop)

is created

i

n the same order as soon as the pre-defined rules are met in the primary order.

 

The pre-defined conditions/rules can be based on Products, Order Status, Lenders, etc

When the rules are matched, the system automatically creates another order, picks up all the required documents, and delivers the report directly to the primary order. 

 

 

Actions can be defined that can be performed on the original order once the secondary order is created and completed.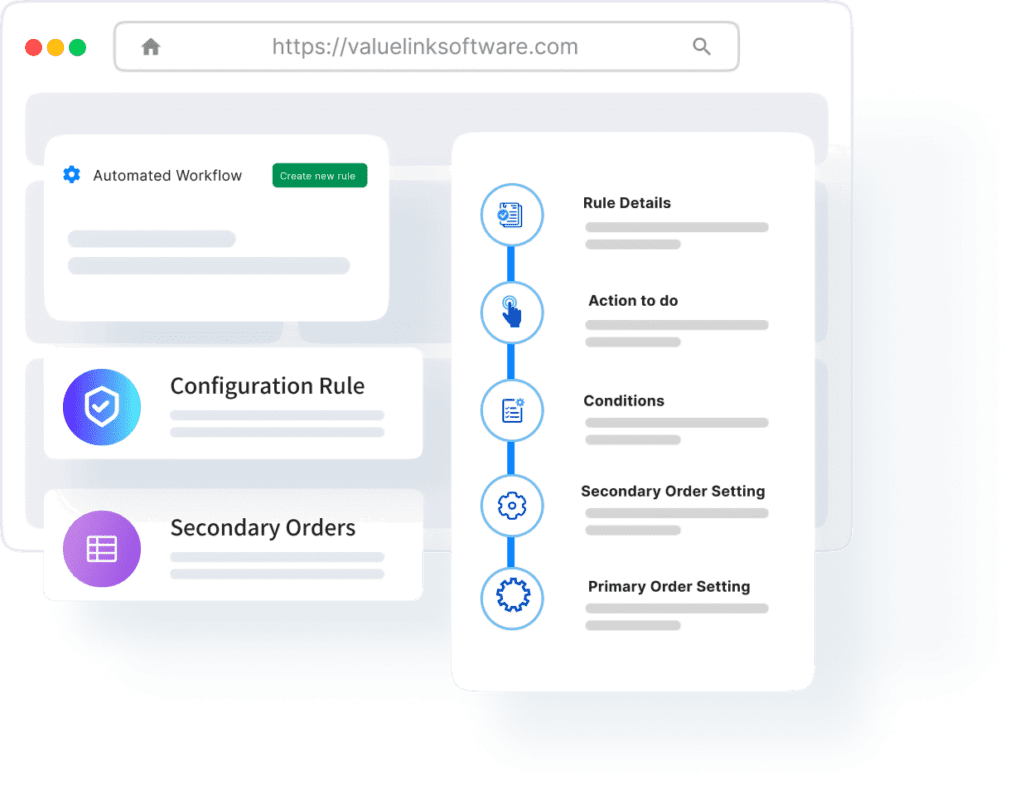 Automated Workflow in Action
Automated Workflow makes ValueLink Core a powerful engine, which combines technology and innovation to make it diverse, flexible, and user-friendly. It eliminates the need for manual efforts, saving valuable time while simultaneously generating reports for multiple order types on a single order, thereby increasing productivity. Here are a few benefits of using Automated Workflows: 
Implementing automated workflow saves time and effort. Orders that were previously taking up hours to create and required a lot of manual work and attention can now be done in a few clicks without having the need for manual entries, within a few minutes.  
Expedite Business Processes: 
Reducing manual effort optimizes process flows, enabling real-time monitoring, and facilitating data accessibility. AMCs can now complete multiple orders faster, improved productivity, and enhance customer satisfaction. 
The workflow automation is incredibly user-friendly and straightforward to operate. The automated engine is intuitive and self-explanatory, making it easy for even a new user to set up and navigate with ease. 
If you're tired of manually managing orders and want to automate the process to eliminate manual entries, schedule a meeting with us.