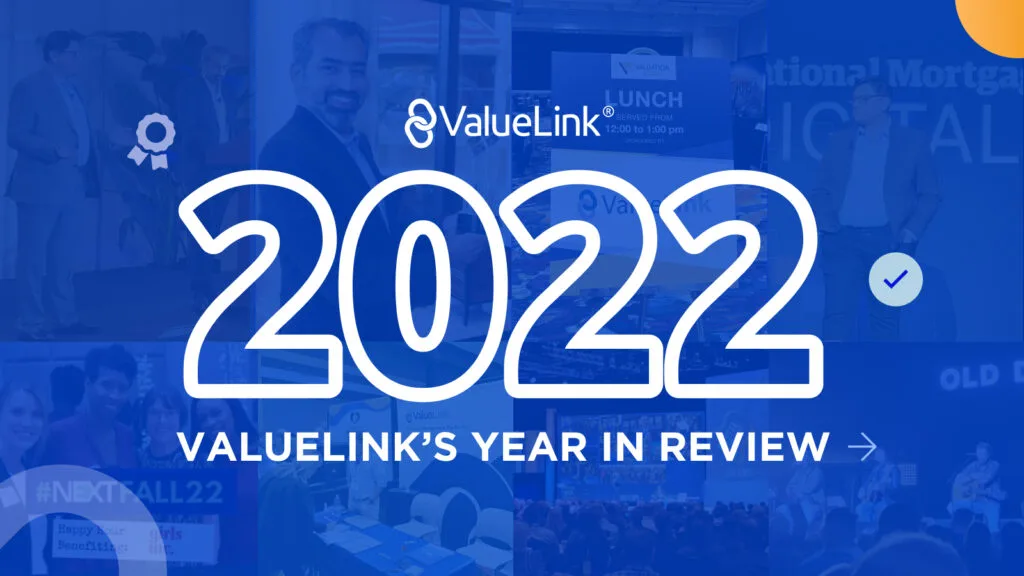 The year 2022 started off phenomenally for ValueLink. We saw tremendous opportunities and growth as the year progressed. It did become challenging as market conditions altered for the overall industry, leaving us with a relatively average year-end. The industry saw some high-tech enhancements, modernized solutions, and the introduction of new technological ways to cope with the prevailing circumstances. ValueLink was quick to acclimatize to the evolving changes and churn more value for its customers. It was a collective effort to bring innovative solutions to the table and deal with the crisis.
Here's a deeper dive into ValueLink's 2022: 
Awards and Highlights:
The year kicked off with the ICE Mortgage Technology™ Innovation Award for Lenders' Choice – Best Service Providers for our innovative integration with the Encompass® LOS utilizing the modern Encompass Partner Connect APIs. The ICE Mortgage Technology Innovation Award recognizes companies who use their Encompass® Loan Origination System to increase operational efficiency, reduce manual touchpoints, and churn out better turntimes for lenders. 
The second and relatively consistent achievement in the last few years has been ValueLink's recognition in the HousingWire TECH100 Mortgage list for leading the way in innovating and modernizing the valuation process. Each year the TECH100 list honors companies that have brought innovations to make the housing sector better and more sustainable by increasing efficiency and improving borrower experience. 
Product Launches:
ValueLink introduced two new product lines in 2022, owing to the growth and tech revolution in the industry. The first launch is Cogent, a business intelligence tool that gives mortgage lenders and AMCs deep insight into the entire valuation lifecycle. It has a user-friendly interface, providing complete data visibility to users and enabling them to make faster decisions. The platform offers lenders and AMCs a competitive edge through its advanced analysis and visualization features so they can always stay ahead of their competitors. 

The second launch is Omni which connects lenders to over 300 AMCs, 40000 appraisers, and multiple valuation providers, giving them access to order Appraisals, AVMs, BPOs, Desktop, and Hybrids in one single solution. It acts as a hub for the entire valuation process, automating all steps and allowing users to manage and track the valuation lifecycle in a unified platform. 

Product Enhancement:
A few enhancements were made to evolve alongside the industrial evolution and improve our products to adjust accordingly.  
We introduced the Team Workboard, a more organized view of orders showing only relevant information. The system enables lenders & AMCs to make teams and assign orders accordingly. Admin or staff users can now be part of multiple teams and manage all their orders on a single dashboard. It empowers users to manage their order pipelines efficiently by building teams, customizing and centralizing views, and processing bulk orders in one go.  
We also revamped our report review tool CrossCheck, to a better version with advanced features, for higher efficiency. It is an automated appraisal review tool that enables Lenders, AMCs, and appraisal reviewers to validate the accuracy of an appraisal report within seconds. The new CrossCheck Plus allows reviewers to create a separate configurable checklist, get a count of UCDP & EAD errors, compare subject property, get a bird's eye view of comps and create brackets based on the condition of the property.  
Events and Participation:
ValueLink had a busy year attending multiple events and maintaining a presence in the industry all year round. We connected with peers, got recognized for our tremendous efforts, and built rapport with potential customers. We also got a chance to present our latest innovations at some events and conducted live demos and meetings for interested prospects.  
Aqil Ahmed, our SVP of Operations, represented ValueLink and participated in a few webinars. We cohosted one of those webinars with Clear Capital on Appraisal Modernization; How to Modernize Your Appraisal Process, Drive Revenue & Stay competitive in Any Market. The panelists discussed the current landscape of the mortgage industry, its challenges, appraisal modernization, and best practices to stay ahead of the competition. 
The other webinar was hosted by SWBC on Adaptive Valuation Services – Boosting Consumer Confidence in the Post-Pandemic Lending Market. It covered the current and future state of the housing and economic market post-pandemic, challenges faced by underwriters due to appraiser shortages, and ways financial institutions can accelerate the loan process. 
Here's a list of all the industry events that our team attended during the year:  
ICE Experience 22

 

MBA's Technology Solution Conference & Expo 2022

 

Texas Mortgage Bankers Association Annual Conference 

 

Valuation Expo 2022

 

Digital Mortgage Conference 2022

 
Appraisal Submit 2022

 

MBA Annual 2022

 
We look forward to attending some of the same events this year to stay connected with our peers in the industry.  
To explore more about the events and our participation, click here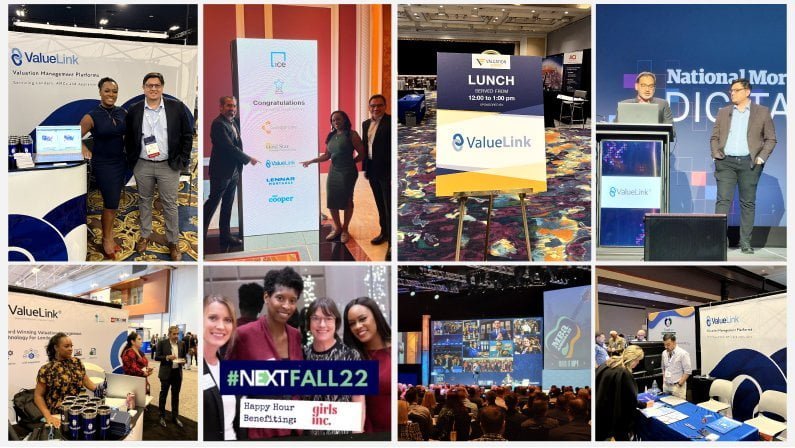 Outlook for the Future
As we look ahead to the coming year, keeping an eye on key trends in the mortgage industry is essential. While the mortgage rates are currently at relatively high levels, they may get regulated over the year as economic and market conditions settle in.  
We have planned our year to accommodate the industrial revolution and possible economic impact. We aim to enhance our existing offerings with value addition to our product lines and features for efficient and better-equipped solutions for our customers.  
Looking forward to empowering Lenders, AMCs, and Appraisers to help them learn and grow their valuation business.